Haak
Collard Greens / हाक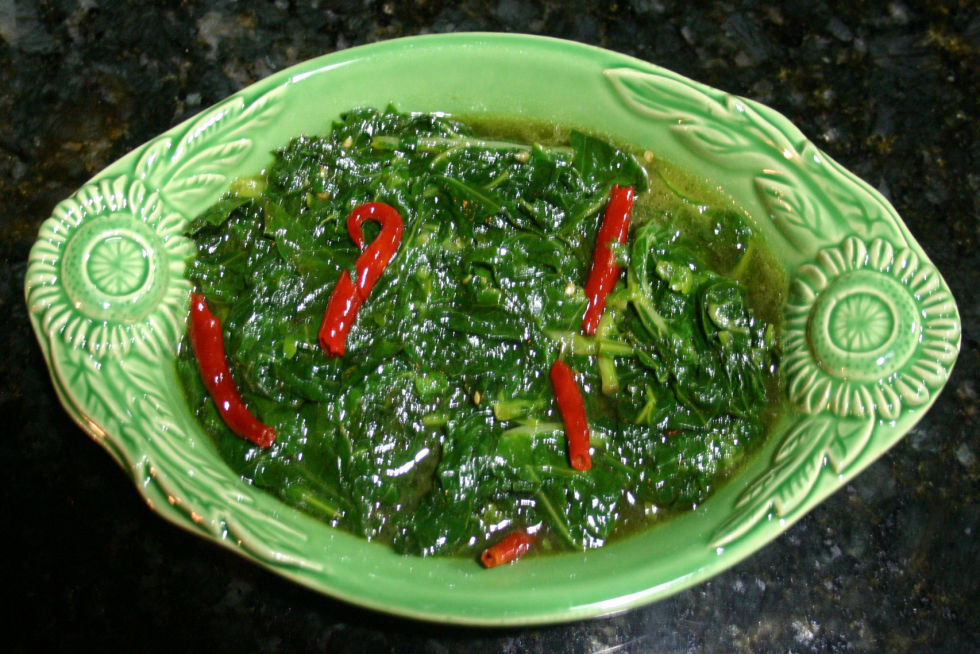 Ingredients
1 lb. ½ kg häak/collard green
Salt to taste
2 whole green chilies or red dry chilies
Pinch of heeng/asafetida
Pinch of baking powder/soda/full
3 tbsp. of vegetable cooking oil preferably mustard oil if available
2 cups of water
Kashmiri spicy cake/vari if available
Instructions
Clean häaka/collard green by checking for white lines on leaves or bugs. Make sure to wash häaka two times in a water-filled sink to get rid of any sand or dirt. Salt or vinegar may be added to water in a sink to kill any bugs attached to the leaves of häak.
Put 3 tablespoons of oil in pressure cooker/cooking pan.
Add heeng/asafetida and sauté.
Add 2 cups of water and boil.
Now add häak and stir well.
Add salt to taste and green or red whole chilies (if green chilies are not available, use dry whole chilies).
Add pinch of baking powder to häak.
Mix well.
Cook until häak is completely dipped in water.
Pressure cook häak for 3-4 whistles or if cooking in a pan and cook until häak is tender.
Turn off the stove.
Open the lid immediately to retain green color or else Häak will change its color.
Add pinch of var (if available).
Serve with white rice and green mertschwangan cheten/chili relish.
Website was built with Mobirise